Coffee Friend is a site dedicated entirely to coffee, whether it be machines or beans, and they are hugely popular throughout all of Europe.
In general, they are one of the cheapest coffee machine websites, often selling certain machines for £100+ less than rivals. So, when it comes trying to grab a bargain this Black Friday, they are set to really give us some great deals.
Plus, you can buy with Klarna, allowing you to pay back in instalments, so you can spend that bit more on the machine of your dreams.
The Best Coffee Machines in The Coffee Friend's Black Friday Sale
De'Longhi Dinamica ECAM 350.55.B -
Now £549 (Save £50)
Touch control panel
LCD display
Wide variety of drinks
Personalise each beverage
A brilliant little machine at any price, the Dinamica allows you to choose from a set amount of over 10 drinks. But you don't have to have them as they come – feel free to personalise them if you like more milk or a stronger coffees.
The included milk frother is perfect for crafting cappuccinos and the like, and you have a milk regulator knob so you can still control this too.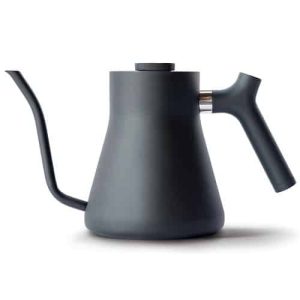 Fellow Products -
25% Off
Top range of coffee products
Professional Barista standard
Includes new products and releases
If you have seen any videos of baristas on Instagram who are being all arty and fancy with how they make a brew, there is a chance that they use Fellow products.
This is for good reason – they are good, and they look arty.
The sale includes their kettles (both pour-over and electric) and cups, so you can make the most of the bargain and grab yourself a matching set.
Saeco PicoBarista -
25% Off
Make 10+ recipes
Set your desired preferences
Make milk-based coffees
Fast heating boiler
A ceramic coffee grinder, 12 grind settings, automatic rinsing when turned on, Milk Clean and a nice cubic design – this is a really great machine which is sure to make heads turn.
A nice large milk frother means it is perfect for anyone who likes lattes and other milky beverages, and there are really clear buttons to allow you to select your choice.
Caprissimo Coffee -
Buy One Get One Free
1kg bags
Mix & Match possible
What is better than a bag of coffee? A bag of free coffee, when you buy any Caprissimo 1kg coffee pack.
Add any two to your trolley and the discount will automatically be applied, which will allow you to either stock up or pick a variety of beans. 
Parallel Coffee -
Buy One Get One Free
Three varieties to choose from
Mix & Match
Parallel 12, 17 or 36 are three varieties of coffee which is great if you have a particular taste.
They are 1kg bags which should keep you ticked over for a little while, and plenty of information is given about the varieties if you want some background info.
Cafe Leigeos Bella Roma -
Save 40%
1kg bag
100% Arabica from 5 different countries for balanced unique flavour
A ripe berry taste and sweetness, this is a lovely coffee if you have a sweeter tooth and want something a bit light and refreshing.
There is a sourness at first which soon turns into a sweet aftertaste – ideal to perk you up then keep you happy throughout the day!